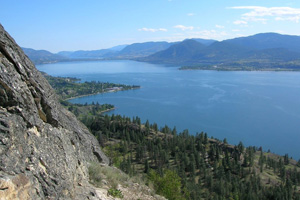 Summer is officially here, and it's already one of the hottest on record in the valley. Boats are cruising up and down the lake, sun-worshippers are relaxing on the beaches, and cafe patios are perfect for sipping and people-watching. It's also perfect weather for our grapes at Silver Sage.
After a cool winter and mild spring, our vines are now bursting with life in the heat. We're making sure the vineyard is in excellent shape, trimming and irrigating our well-established plants. By fall, they'll be full of the signature quality grapes that go into our lush reds and crisp whites. 2015 is shaping up to be a great vintage!
We're also enjoying the harvest of fresh British Columbia fruit from the Okanagan and Fraser valleys. Our region has been famous for its orchards and fields since the earliest European settlers began planting here in the 1800s. The conditions are especially good this year. Raspberries, blackberries, and blueberries are huge and sweet, and the early cherry varieties are turning out to be delicious. Peaches and apricots are ripening early too. We're saving some for our signature dessert wines and red blends, but it's hard not to munch down handfuls as they arrive at the winery.
Make Silver Sage a stop on your Okanagan tour and see for yourself what we make of our harvest. Sit in the sun and sip a relaxing glass . . . or two.