Stay With Us
We are closed from Oct to the end of Feb. Re-opening March 1, 2020.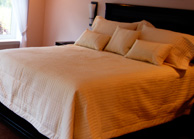 As promised this is not a traditional bed and breakfast (although we do provide both), but rather a bed and booze. Included with each of the rooms will be a bottle of wine for you to enjoy…
Pamper yourself in one of our three luxurious guest suites, each with its own warm decor, elegant beddings and top of the line modern bathrooms, and accompanied of course by the exclusive hospitality provided by the Manola family!
*No Minors, No Pets, No Smoking
---
Our Rooms
Inside, all rooms have access to a fully equipped modern kitchen facility. We will supply the breakfast food that you can prepare and enjoy at your leisure whenever you decide to wake to the vineyard views in the morning…All guests will also be welcome to use an outdoor BBQ area with both open and covered seating where you are welcome to cook your own feast. Everyone will also have access to the rear deck area, perfect for relaxing on a quiet Okanagan evening.
Big screen TV, jetted tub, internet access, Netflix and books, all of this and a lot more are here for your enjoyment. Join us soon for your perfect, well-deserved holiday!