Events
At Silver Sage, we love to host all kinds of events. Enjoy the sunlight (or moonlight!) on our beautiful terrace and throughout the grounds. Watch our expert winemakers at work, and taste the results. Relax, dine, and dance the night away in our elegant function room. Although we cannot host weddings, we are thrilled to have your family reunions, business events, corporate retreats, girls' or boys' getaways, and more.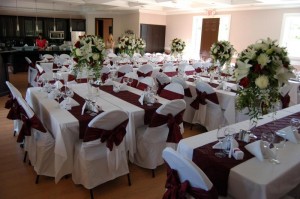 Contact us to make a booking, and leave the rest to us. We can provide excellent catering to go with our outstanding wines. We'd be delighted to customize your perfect event with you.
We also host regular events through the year. Bring your friends and join us for Thanksgiving or Oktoberfest. Check back regularly to see what's coming up at Silver Sage.
Thanksgiving Dinner and Dance, October 6, 2012
Celebrate your holiday in style with Silver Sage Winery! Escape your family or bring them with you on Saturday, October 6, 2012 in the Banquet Room at Silver Sage. Join us starting at 6:30 pm for appetizers and a traditional Thanksgiving dinner with all the trimmings. Guests will also be treated to dessert, coffee and tea, as well as an accompanying glass of wine with dinner. Tickets are $75 per person and this includes a DJ hosted dance following dinner to work off all that great food! Additional wine will flow at cost throughout the evening, come and toast the holidays with us!